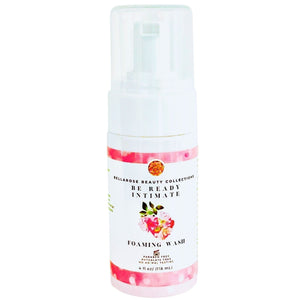 This Strawberry scented yoni feminine wash removes secretion, unpleasant odor, and provides a clean feeling. It helps to keep a fresh and refreshing feeling during and after use.
Shower with the Be Ready Intimate Foaming Wash and apply a perfect Kitty yoni oil to awaken your senses and then use the Strawberry yoni oil to massage just before activity. 
Benefits
Removes secretion

Abolishes Bad Odor

provides a clean feeling

Directions: Squeeze 1-2 pumps of foam to gently wash the EXTERNAL intimate areas only (vulva) avoiding the inside in the vagina.
Main Ingredients: Organic Olive Oil, Organic Castor Oil, Seed Oil, Vitamin E, Peppermint Essential Oil, Jasmine Essential Oil, Organic Clove Bud, Flavoring.
4oz 
Legal Disclaimer: These statements have not been evaluated by the FDA. These products are not meant to diagnose, treat or cure any disease or medical conditions. Recommend test in a small patch area first. For legal reasons you should always consult your doctor before starting/using any products especially during pregnancy or for treatment of a medical condition.