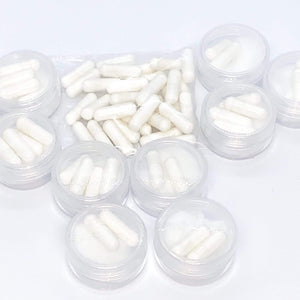 WE MAKE NO MEDICAL CLAIMS!
Yoni pops may assist with the following:
Have an embarrassing odor, Vaginal Dryness, Want tighter vaginal walls, Frequent Yeast infections, Is your pH OFF? 

Yoni suppositories can help to maintain vaginal moisture and healthy pH levels.
The Yoni suppositories Yoni pops are also well known for
treatment of
fungal/yeast infections, Vaginal odor, itchiness, vaginitis, unbalanced discharge, vaginal dryness and pH levels.
Ingredients: Celtic Sea Salt, Bamboo Salt, Mineral Salt Mix

DO NOT TAKE BY MOUTH
INSERT 1-2 POPS INSIDE YOUR VAGINAL CAVITY OR (INSERT 1 POP AT A TIME WITHIN 24 HOUR/ NEXT DAY)
WEAR A PANTYLINER BECAUSE YOU MAY EXPERIENCE LIKE DISCHARGE
POP(S) WILL DISSOLVE WITHIN 8 HOURS
RECOMMENDED DOSAGE IS NO MORE THAN 4 POPS A MONTH
BE SURE TO SHOWER BEFORE ANY SEXUAL ACTIVITY AFTER USE OF PRODUCT
DO NOT USE IF PREGNANT
DESCRIPTION
 You only need 1-4 pops per month
 Natural Sea salt Based Minerals
This is NOT Boric Acid!
DO NOT USE IF PREGNANT!
PLEASE NOTE: These statements and products have not been evaluated by the FDA. They are not intended to diagnose, treat, cure, or prevent any disease or condition. If you have a health concern or condition, consult a physician. Always consult a medical doctor before using any new product, drug, or supplement.