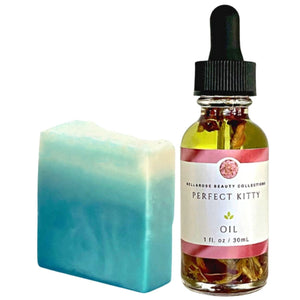 The Lush-Kitty Yoni Bar Bundle was formulated for our most precious intimate area.
The Yoni Oil and Yoni Soap works hard to combat various issues that can come due to the constant changes going on in our bodies and lives. 
What's Included: Lush Kitty Yoni Soap + Perfect Kitty Yoni Oil 1oz
Perfect Kitty Yoni Oil 1oz
Targets:
Alleviates vaginal dryness
Abolishes bad odor
Keeps your Yoni fresh all day
Regulates pH 
Powerful antibacterial and anti-fungal properties  
Combats bad bacteria that causes yeast infections and BV
Helps soothe irritation, razor bumps/burns, ingrown hairs and itchiness.
1oz
Ingredients: Grapeseed oil, Rose petals, Organic Calendula flowers, Essential oil
Lush Kitty Yoni Soap 
The Yoni bar soap is consist of some of the finest and best yoni soap ingredients curated to soothe, cleanse and maintain your kitty for the day.
Targets:
Bad Odor

Hydration

Razor Bumps

itchiness

Dryness
How to use: Made for daily use. Wash with soap but do not apply the Yoni Soap inside the vaginal canal.
For External Use Only
Ingredients: Aloe Vera , ACV ,Rosehip oil, Evening Primrose Oil, Avocado Oil, Argan Oil, Jojoba Oil, Coconut Oil, & Olive Oil infused with Organic Rose Petals and Buds, Calendula, Red Raspberry, Mugwort, Rosemary, Peppermint, Chamomile, Lavender, Red clovers,Clove Essential Oil, Jasmine Essential Oil, Lavender Essential Oil, Frankincense Essential Oil, Lemongrass Essential Oil, Peppermint Essential Oil.
PLEASE NOTE: These statements and products have not been evaluated by the FDA. They are not intended to diagnose, treat, cure, or prevent any disease or condition. Recommend test in a small patch area first. If you have a health concern or condition, consult a physician. Always consult a medical doctor before using any new product, drug, or supplement.