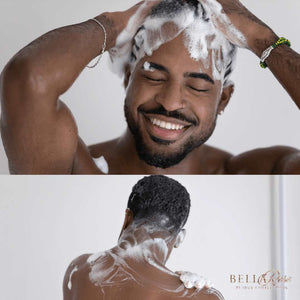 In need of a Men's Kit or maybe just a little extra pampering for yourself.
What's included:
Beard Oil 2oz, King's Glow Rose Oil 1oz, Bar Soap 4.5oz, Beard Brush and Comb.
Natural Bar Soap 4.5oz: Gently cleanse beard and face without artificial chemical, sulfates, parabens or any drying ingredients. Leaves your skin luxurious clean without overly drying.
Beard Oil 2oz: Softens beard hairs after cleansing. Leaves beard smelling amazing while nourishing beard hairs and skin. Encourages growth. Softens facial hairs and conditions, helps chapped dry skin naturally. Soothes irritations.
King's Glow 1oz (Rose Oil): Helps smooth skin, reduce blemishes, soft, silky skin with none of that greasy feeling! I have yet to meet a man who does not enjoy this natural Rose Oil scent.
Beard Brush and Comb: pocket-size beard brush and comb fit perfectly in your jeans' packet or bag pocket, so you can groom your facial hair anytime, anywhere.