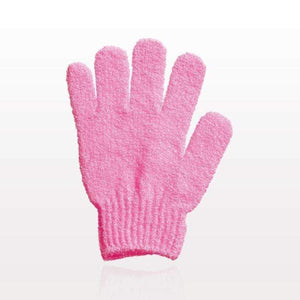 Exfoliating glove is used to lather your beauty bar/facial cleanser to wash both face and body. This exfoliating glove will help get rid of dead skin, buildup, and clogged pores which are major cause of skin dullness.  
Use 2-3X's weekly depending how sensitive your skin is. 
Lather your exfoliating gloves and gently use on face/body in a circular motion. This will help stimulate blood circulation, remove dead skin cells and provide you with a smooth Healthy glowing skin.
Disclaimer: If use abrasively it will irritated skin. No need to scrub allow the glove to do the work.