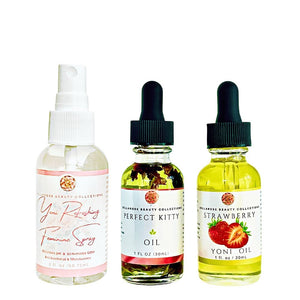 Feel fresh and confident with our Feminine refresher bundle. Our Yoni oil and Yoni spray are made with natural ingredients, and provide a gentle yet powerful feminine cleansing to help you radiate from within. Pamper your body and soul with this must-have bundle!
Yoni Refreshing Spray 2oz:
Targets

Bad Odor

Hydration

itchiness

Dryness

pH Balanced
How to use: Made for daily use.
 For External Use Only
Ingredients:
Organic Aloe Vera Juice, Kosher Vegetable glycerin, Tea Tree Essential Oil, Lemon Essential Oil, Peppermint Essential Oil, Clove Essential Oil, Sodium Bicarbonate, Ethylhexylglycerin & Phenoxyethanol (Eco-certified Paraben Free Preservative), Strawberry Scent.
Perfect Kitty Yoni Oil + Strawberry Yoni Soap Benefits:
Alleviates vaginal dryness
Abolishes bad odor
Keeps your Yoni fresh all day
Regulates pH 
Powerful antibacterial and anti-fungal properties  
Combats bad bacteria that causes yeast infections and BV
Helps soothe irritation, razor bumps/burns, ingrown hairs and itchiness.


Perfect Kitty Yoni Oil 1oz

Ingredients: Grapeseed oil, Rose petals, Organic Calendula flowers, Essential oil
Strawberry Yoni Oil 1oz
Ingredients: Organic Olive Oil, Organic Castor Seed Oil, Beeswax, Vitamin E, Grape-seed Oil infused with Organic Calendula, Rose Petals and Bud, Tea Tree Essential Oil, Peppermint Essential Oil, Lavender Essential Oil, Frankincense Essential Oil, Geranium Essential Oil, Rosemary Essential, Strawberry Natural Flavor
Directions: After shower, apply 2-3 drops of oil on finger and rub onto your private area. Although it's made with natural ingredients, we do not recommend inserting the Yoni Oil inside (vaginal canal).


These statements have not been evaluated by the FDA. This product is not meant to diagnose, treat or cure any disease or medical conditions. Recommend test in a small patch area first. Avoid getting into eyes. Discontinue if any adverse effects occur. Do not use if you're pregnant.