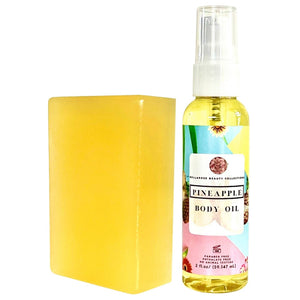 What's Included:
Sweet Pineapple Yoni Soap 6oz + Pineapple Body Oil 2oz)
The Sweet Pineapple Pleasure Yoni soap has an amazing juicy fresh pineapple tropical smell. It not only fights bacteria, odor, and dryness it promotes an overall healthy vagina. You deserve to feel fresh and confident in the skin you're in.

Sweet Pineapple Yoni Soap Bar 6oz
Yoni soap Benefits:
 Targets:
Bad Odor

Hydration

Razor Bumps

itchiness

Dryness

pH Balanced
How to use: Made for daily use. Wash with soap but do not apply the Yoni Soap inside (Vaginal canal).
6oz
Ingredients: Aloe Vera , ACV ,Rosehip oil, Evening Primrose Oil, Avocado Oil, Argan Oil, Jojoba Oil, Coconut Oil, & Olive Oil infused with Organic Rose Petals and Buds, Calendula, Red Raspberry, Mugwort, Rosemary, Peppermint, Chamomile, Lavender, Red clovers,Clove Essential Oil, Jasmine Essential Oil, Lavender Essential Oil, Frankincense Essential Oil, Lemongrass Essential Oil, Peppermint Essential Oil Pineapple oil.
Pineapple Body Oil 2oz
Our Pineapple Body Oil is an AMAZING addition to layering moisture. This sweet, juicy + fruity scented tropical body oil is a great way to seal in the moisture of the skin. Plus, its NON-Greasy and smell just like fresh pineapple.
Best Pineapple Oil available.

How to use: 
After shower or bath apply a few drops of oil on damp skin & rub until evenly absorbed.
Ingredients:
Sunflower Oil, Black Currant Oil, Black Cumin Oil, Organic Hemp Seed Oil, Organic Rose Hips, Organic Tamanu Oil, Avocado Oil, Organic Jojoba Oil, Vitamin E Oil
 2oz