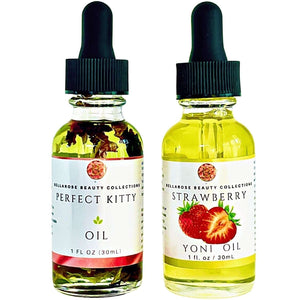 What's Included:
Perfect Kitty Yoni Oil 1oz + Strawberry Yoni Oil 1oz
The Yoni Oils works hard to combat various issues that can come due to the constant changes going on in our bodies and lives.

Perfect Kitty Yoni Oil 1oz

Ingredients: Grapeseed oil, Rose petals, Organic Calendula flowers, Essential oil
Strawberry Yoni Oil 1oz
Ingredients: Organic Olive Oil, Organic Castor Seed Oil, Beeswax, Vitamin E, Grape-seed Oil infused with Organic Calendula, Rose Petals and Bud, Tea Tree Essential Oil, Peppermint Essential Oil, Lavender Essential Oil, Frankincense Essential Oil, Geranium Essential Oil, Rosemary Essential, Strawberry Natural Flavor
Directions: After shower, apply 2-3 drops of oil on finger and rub onto your private area. Although it's made with natural ingredients, we do not recommend inserting the Yoni Oil inside (vaginal canal).
These statements have not been evaluated by the FDA. This product is not meant to diagnose, treat or cure any disease or medical conditions. Recommend test in a small patch area first. Avoid getting into eyes. Discontinue if any adverse effects occur. Do not use if you're pregnant.